Perthshire luxury hotels are some of the finest in Scotland. Perthshire is a land of beauty nestled away in the heart of Scotland. There are many luxurious hotels to choose from in Perthshire. While you have many options to choose from, we have compiled the very best for you. Read on to find out about some of the best luxury hotels in Perth, Scotland.
Crieff Hydro Hotel and Resort
This luxurious 900-acre resort features an indoor pool with a 19th-century spa. Annexes offer a beautiful views of the surrounding land. There are plenty of recreational activities to choose from, including horse-riding and archery. For the adults, a relaxing Victorian spa awaits. Located nearby is the Famous Grouse Experience, Scotland's oldest whiskey distillery. You can also visit the Drummond Gardens, known for their formal terraced gardens.
Knockendarroch Hotel
This luxury Pitlochry hotel is located inside a beautiful Victorian house. It is surrounded by scenic woodlands that offer a breathtaking view. The hotel also offers a wonderful, deep selection of whiskey and gin. While you're here, a fourteen-minute walk can take you to the River Tummel. Located close by is the Tay Forest Park, and you can also visit the Pitlochry Festival Theatre. This "Theatre In the Hills" offers a variety of exciting event programmes year round.
Dunalastair Hotel Suites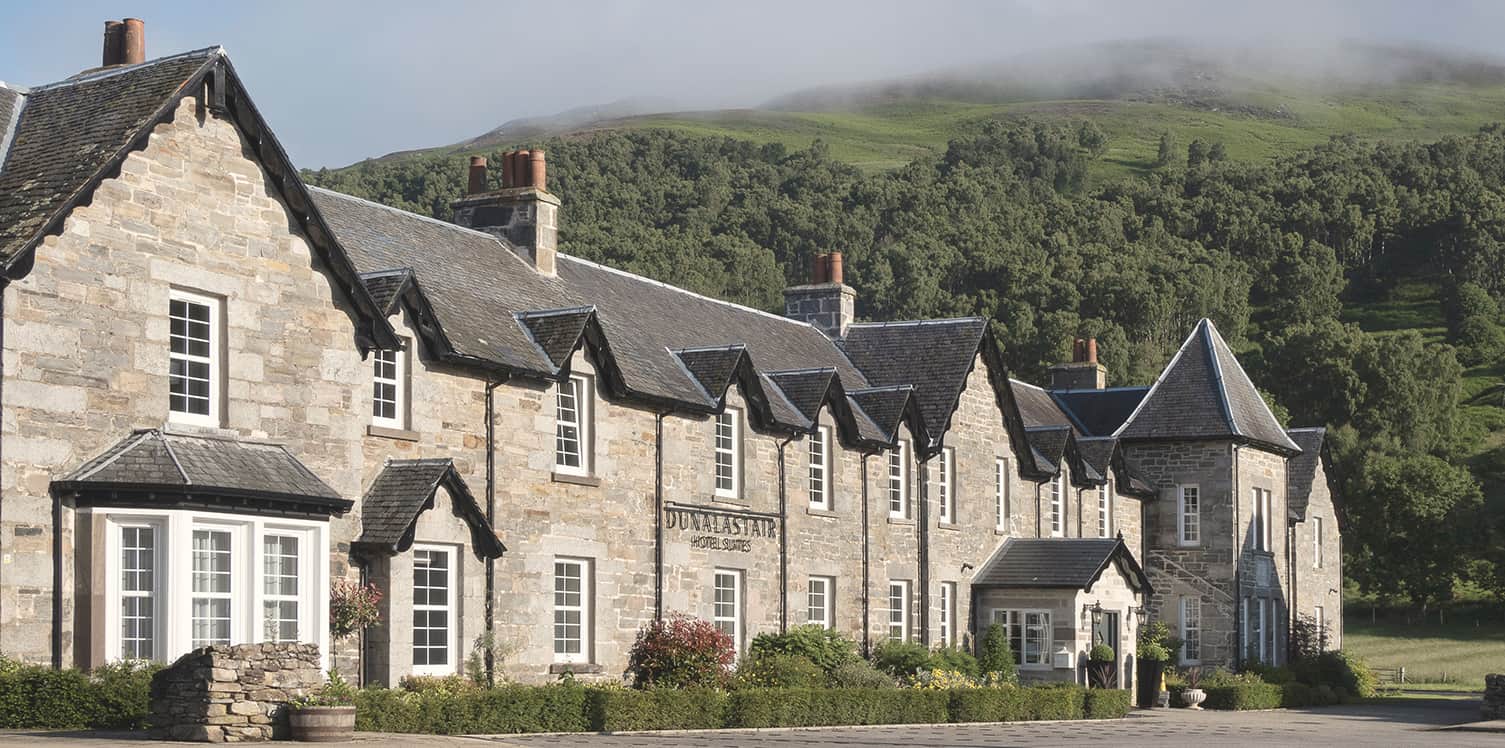 This upscale hotel is among the best luxury hotels in Perth, Scotland. Located along the great River Tummel, it is housed in a grand Victorian building. With luxurious sitting and dining areas, open terraces offer an elegant view. The hotel is surrounded by mountains that make for a breathtaking view. It is also 5 miles away from the Schiehallion Mountains offering an adventurous trek. Close by you can also find the Dunalastair Water, a reservoir with beautiful scenery. Loch Rannoch is also close by, offering a picturesque walking and cycling path.
Cairn Lodge Hotel
This elegant Victorian-era hunting lodge is a boutique hotel near Perth. It offers a sophisticated, individual set-up along with an independent lodge house. This hotel is also located at a 5-minute walk from the Auchterarder Golf Club. The club offers an 18-hole course. Your stay here can also involve a breath-taking exploration of the Perthshire countryside. The hotel is close to the Gleneagles Station, where your chauffeur service can pick you up.
Atholl Palace Hotel
Atholl Palace is a unique choice among luxury hotels in Perth, Scotland. It is surrounded by the beautiful scenic views of the Tummel Valley. This high-end, 1871 manor offers a historic yet elegant experience for your stay. From here you'll be able to visit the Edradour Single Malt Distillery, located a few miles away. With a chauffeured car, you can also visit the Atholl Palace Museum. A trip to the Black Spout Woods located at a 7-minute walk offers some breathtaking sights.
Woodcroft House
WIth beautiful mountain and city views, Woodcroft House is a one-of-a-kind experience. It offers everything from a relaxing stay to a satisfying dine-in service. The surrounding area offers a variety of exploration options. A private chauffeur can take you on a visit to the Perth Museum and Art Gallery, the main Perth expo space. Perth Racecourse offers some of Scotland's most thrilling horse races. The heathland and parkland terrain also make for some prime 18-hole courses. These come under Perth and Kinross County Golf Union, making for an enjoyable day.
Gleneagles
This luxurious hotel offers posh rooms with balconies offering golf-course views. The hotel itself offers a high-end spa and 3 golf courses. Also, you can engage in activities like shooting, horse riding and falconry. A luxury chauffeur service can take you from the hotel to visit nearby sites. These include the Perth Concert Hall, and the Stirling Castle. Skydive Strathallan offers an exciting adventure in skydiving. The hotel features four restaurants which offer various dining experiences.
Kinloch House
This particular hotel is set within 25 acres of rural land. You can enjoy open sites of the surroundings. An elegant Victorian country-house, this hotel offers countryside views. It also features original period details and antique furniture. Extensive gardens in the surrounding areas are always open for exploration. Easily accessible from here is the Loch of Drumellie. This loch is a designated Site of Special Scientific Interest. You can also head to the Blairgowrie Golf Course. Kinloch House offers an experience in cosiness and class.
Fonab Castle Hotel
A stately castle hotel, Fonab stands out among luxury hotels in Perth, Scotland. Suites offer the original vaulted ceilings of the ancient castle. This hotel overlooks the Loch Faskally, and balconies offer views of the loch. The Loch is set within steeply wooded hills that offer a wonderful site. Blair Castle can be visited close by, the historic seat of the Duke of Atholl. Nearby is also the Atholl Country Life Museum.
Royal Dunkeld Hotel
The Royal Dunkeld Hotel stands in its 19th century structure in a picturesque town. It features a unique Woodlands Bistro and a beer garden you can explore. Here at the "Gateway to the Highlands," you can also enjoy luxury golf courses at the Dunkeld and Birnam Golf Club. Several whiskey distilleries also offer an exciting learning experience in distillation. These include Dunkeld Whiskey Box and Strathearn Distillery. Close by is a delicatessen where you can enjoy specialty foods.
Grandtully Hotel
Within the scenic Highland village is the Grandtully Hotel. This hotel is guaranteed to offer a stylish and cosy stay. An exquisite dining experience is also guaranteed with a simple design-led approach. Right next door is located the award-winning Highland Chocolatier Iain Burnett's shop. Whiskey enthusiasts can also visit the Edradour Distillery for a wonderful experience. The surrounding glens offer an amazing site for relaxing walks and watersports.
Ballintaggart Hotel
The Ballintaggart Hotel offers an immersive experience of luxury hotels in Perth, Scotland. You can enjoy and explore the ancient beauty of Scotland's natural views. With limited openings and designed rooms, it promises a one-of-a-kind experience. The hotel also offers cooking lessons in local cuisine. A hallmark feature of these lessons is the use of the finest Scottish ingredients. Surrounded by the rolling hills of the Tay Valley, it also offers a unique view into the local beauty. The Ballintaggart Farm offers an extraordinary restaurant and fine dining with seasonal feasts.
Ballathie Country House Hotel and Estate
This 1880 Country House is set on the banks of the River Tay, offering mesmerising scenery all around. Based on your preferences, you can also choose elegant quarters or riverside rooms. The hotel is only a chauffeur driven ride away from the city centre. An elegant restaurant serves a variety of dining experiences. These are complimented by beautiful river views. The Blair Castle and Hercules Gardens is also located nearby offer a thrilling exploratory adventure. For water enthusiasts, the Canyoning Company offers excellent canyoning services.
Parklands Hotel
Located just on the edge of South Inch Park, this upscale hotel offers scenic views during your stay. Housed in an elegant townhouse, it offers stylish rooms with refined layouts. You experience here includes a casual bistro with a seasonal terrace. There is also a fine-dining restaurant with beautiful garden views. A short drive away is the Scone Palace, a Category-A listed historic house. This palace offers one of the finest examples of late Georgian Gothic style in Scotland.
The Townhouse

A classic Georgian townhouse, the hotel overlooks South Inch Park. It offers traditional rooms overlooking the park with antique furnishings. The cosy warmth of fireplaces also give it a rich atmosphere. From the hotel, your chauffeur service can take you to the River Tay for a relaxing stroll. You can further visit the Perth Museum and Art Gallery. The Fergusson Gallery is also close by, housing the works of JD Fergusson. It also includes the archives of Margaret Morrison.
Meikleour Arms Hotel and Restaurant
At the heart of Meikleour is this unique, boutique hotel. It is internationally renowned for its distinctive selection of flora. The hotel is managed under the Meikleour Estate. It is one of the oldest historical estates in East Scotland. It offers upscale rooms as well as stylish cottages. For a fine-dining experience, the award-winning restaurant serves country food. The entire service boasts its Franco-Scottish heritage. A relaxing salmon fishing trip is a must while you stay here. For a relaxing day, the Blairgowrie Golf Club is also located nearby.
Murrayshall Country House & Golf Club
This landmark resort is situated over a 350-acre estate, dating back to 1664. This is a unique experience in luxury hotels in Perth, Scotland. Sophisticated rooms also offer a wonderful contrast between traditional and modern. Two on-site restaurants also provide an amazing dining experience. Two 18-hole golf courses located on hotel grounds offer a relaxing experience. A chauffeur driven car from the hotel can take you to the magnificent Balhousie Castle. You can also visit the Perth Museum and Art Gallery along the way.
Westlands of Pitlochry
Located within its own landscaped gardens, this hotel offers a scenic stay. Besides luxurious walks, guests can enjoy activities like archery, mountain-biking and rafting. With a private chauffeur company, you can pay a visit to the Castle Menzies. The ancestral seat of the Clan Menzies, it is an enthralling experience. The surrounding scenery of Highland Perthshire also offers stunning views.
Knock Castle Hotel & Spa
Knock Castle is housed in a 19-century turreted baronial home. This upscale hotel offers both the modern and traditional. A beautiful effect is achieved with antique and ornate furnishings. A rooftop restaurant and a fine-dining eatery also offer excellent dining options. The hotel features a spa, with an indoor pool, fitness room, hot tub and steam room. The Crieff Golf Course less than a mile off offers a great golfing opportunity over an 18-hole course.
CLC Duchally Country Estate
The Duchally Country Estate offers an opulent experience to visitors. Luxurious modern rooms offer comfort in a holiday lodge. Other activities include an on-site pool, hot tub and spa. For those interested,. The Tullibardine Distillery is also located nearby. It is open to visitors interested in the distillation process. Also located nearby is the Gleneagles Golf Course, offering 18-hole courses.
IvyBank Lodge
Surrounded by stately gardens, IvyBank is close to the River Ericht. This Victorian-era guesthouse offers period and contemporary decor. An elegant dining room also offers tasteful local cuisine. Rooms offer stunning views of the gardens surrounding the hotel. With an executive chauffeur service you can enjoy the Blairgowrie Golf Club. Also close by is the Scone Palace. The ski resort at Glenshee is another must visit. It offers some of the country's most extensive skiing and snowboarding facilities.
The Green Hotel and Golf Courses
Set on a 5000-acre estate, the Green Hotel stands out among luxury hotels in Perth, Scotland. This hotel is an 18th-century coaching inn. Styled, traditional rooms offer stunning views of the surrounding courtyard and landscaped gardens. You can also choose between five different on-site restaurants all offering a distinct taste. The hotel also features a luxury spa and a health and fitness suite. A purposely-built music venue regularly hosts music artists from around the world. The resort also offers two 18-hole golf courses. Within a mile is located the Loch Leven Castle open for exploration.
Craigmhor Lodge and Courtyard
Surrounded by wooded grounds. This upscale lodgehouse offers stunning views and refined rooms with balconies and terraces. Beautiful gardens are always open for a relaxing stroll. Also located close by is the Blair Athol Distillery showcasing the art of distillation. A variety of activities can also be enjoyed here. These include mountain biking, white water rafting, golfing and winter sports. A private chauffeur can take you on scenic drives to enjoy the surrounding landscape.
Rosebank Guest House
This traditional guesthouse is set in a 19-century Victorian villa. Its unique layout offers a glimpse into the past. The Victorian-style dining room also offers a relaxing and beautiful view of the surroundings. The hotel itself is located close to the Perth Museum and Art Gallery and the Scone Palace, both well worth a visit. From here you can also tour the Black Watch Castle and Museum.
Craigatin House and Courtyard
This hotel is located within quiet wooded grounds. Its setting offers beautiful and scenic flora to enjoy. A grand Victorian building, it offers modern facilities with a traditional touch. There is also a variety of fine-dining restaurants surround the hotel. You can visit such outlets as the Victorias Restaurant offering an amazing selection. The Pitlochry Golf Club nearby also offers an exceptional 18-hole par 69 course.
To arrange luxury chauffeur driven transport to any of these hotels or any other location in Scotland, please contact us by clicking here.